ResuLts from last Show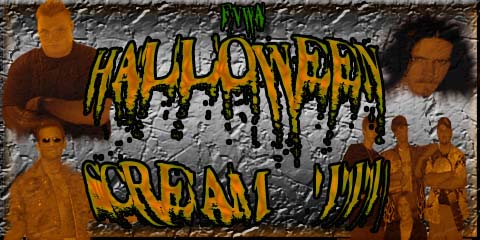 Helloween Scream III

October 25, 2003

Results

30 min Ironman Match World Title

"Psycho" Craig beat Brent Anderson & Heretic

What a Match. The last match of the year and these 3 just about killed each other. Spots included Brent Anderson hitting the 450 splash on Craig and Heretic stacked on top of each other. Heretic hitting a Spanish Fly on Brent off of a CAR! Heretic Power bomb Craig from the top of the car to the hood. Brent DVD to Heretic on a board wraped in barbwire and thumbtacks! In the end Criag scored a doublepin in the final seconds to win the FVWA World Title.

FVWA Career v.s Mid-Valley Title

Shane Hunt beat Freak

Freak Must Now Retire!

With everything to lose and a title to gain Freak pulled out all the stops and would have won but the ref was knocked down. When the ref came to Shane had hit the Blue Thunder and Freak was forced to retire from wrestling for ever!

2/3 Falls Tables Match

Tim Mecca beat Damnum

These two had alot of bad blood going into this match and it showed. about 5 mins in the match Hank Payne comes out carrying a chair and a ladder. Tim sets Damnum up and hits a Leg drop off the ladder throught the table on Damnum. Damnum get momentum back gets Tim on a table on the outside of the ring. Damnum climbs to the top turnbuckle and hits a senton. With the Score now 1-1 Tim Mecca hits a Mecca Driver on the dirt on the outside. Then he sets up a table next to the ring. Damnum trys to come back but ends up on Tims shoulders on the ring apron. From there Tim hits the Blue Crush thought the table winning the match.

Tag Team Titles, Elimination

Sean Gotti & Christopher Gambino

beat

Samurai & Chris Mecca

&

Polish Luchador & Touchdown

At the last minute this match was made to decide the vacant tag team titles. With lots of bad blood and plenty to fight foe these teams had at it. At one point Samurai flew over the top rope and hit all 4 of his opponants. First eliminated was Polish Luchador and Touchdown after P.L was hit with a Saukie bomb. Then Chris Mecca and Samurai failed to beat LCN and the Italian's become new FVWA tag team champions

Skitso Atari beat Epiphany

The offical start to the woman divition was a weird one. Epiphany had a hard time with her opponant who looked real formiliar. In the end the new ??Woman?? pulls out the win.

Assassin & Kale

beat

Hardcore Wonder & Hitman

Everone had something to prove. No titles were on the line, but bragging rights for the next 5 months were. This match will play big in the 2004 rankings, as the battle of the hardcore wll continue.

Wolf beat The Brawler

The Brawler who is still looking for his first win comes out and faces Wolf who is starting to gain a head of steam in FVWA. With Ric o' Shay's help Wolf pulls out another win.

Ares beat Dredd

These two have a 5 year hatered that has splided over from the EWW to the FVWA. They put on a technacal/Hardcore clinic as they beat eachother half to death. In the end the "Best Frogsplash in the business" by Ares finishes off Dredd.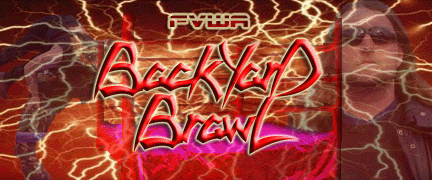 BackYard Brawl XI

Results

Opening

The Trinity come out and talk about how Shane was screwed by Craig and Joe E. Juggaol makes a handy cap match between Shane and Brent v.s Craig. Juggalo calls out Touchdown and Dredd. He says how he is pissed that they didn't get the job done. He tells Touchdown that he must face both Damnum and Tim Mecca in a Triple Threat Match. Then he said Dredd.......well get out of my face. As Dredd trys to leave the Trinity attack. After the beating Joe E comes out and talks about being back and that he wants a shot at Brent Anderson. Juggs says no. He said that Joe E. is on his DL list. So Joe E. puts on the COD mask. Juggs says no and that he is now a permanent comentator.

FVWA Hardcore Title

Assassin beat Brawler

Brawler had a good showing aganst the champ, but in the end a Reverse Spinning DDt and other high impact moves lead Assassin to another victory.

Touchdown beat Tim Mecca, Damnum

via Count Out

Befor the match Juggalo toild Tim and Damnum to "Kick his ass and leave, don't fight each other" Thats how it started till they both got greedy. Touchdown got little offence but stuck out the punishment till Tim and Damnum fought out to the outside and got themselves counted out.

Tag Tem Titles

The Team

beat

Samurai and Polish Luchador

Great back and forth action as P.L and Samurai pulled out some dirty tricks to try to get the win. After a hard fought match Samurai again got the tripped up by P.L on accedent. P.L will have some explaining to do at the next show.

"Pyscho" Craig Covenant and Dredd

beat

Brent Anderson and Shane Hunt

Befor the match Dredd comes out and says he wants to be Craigs partner in this match. The Trinity refuses. He says that if the Trinity win he will leave FVWA for good. If Dredd and Craig win, Dredd gets a shot at the Mid-Valley title. The Trinity agree. Great match with lots for action. After Ref O'Shay was knocked down Craig gets the pin on Brent and COD makes the count 1,2,3. During this on the outside Shane Hunt was coming back to his feet when Freak bust through the curtain and Speared the Hell out of Shane. The Trinity said the match must continue because COD cannot make the count, COD says yes he can, Juggs made him a ref at the last show and it still counts.

World Title

Heretic beat Ares

Joe E anounces that Heretic don't have to defend his title because Chris Mecca is not there. Heretic's music hits and he comes out saying he is a fighting champion and will defend aganst anyone. Joe E says there is someone and out comes Ares. After losing his first match to Scoot, Ares came out and showed his skill bringing Heretic to his limit. After a great match Heretic gets the pin and retains the FVWA title.

After the match Joe E gets a fax from Juggalo. It says that there will be a tournyment for the FVWA title. It is called the Triple Ironman Tournyment or TIT. It will start with 3 qualifing matches at Backyard Brawl on Oct. 11. The 3 winners will meet in a Triple Threat Ironman Match at HS3.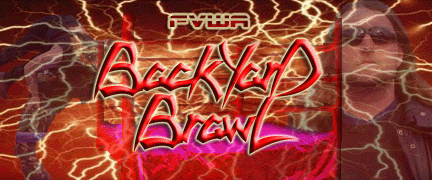 BackYard Brawl X

Results

Opening of show

Damnum started out and talked about his new look and his new attitude. Plus he showed off his new hair cut. Still a long look, his hair doesnt even come down to his shoulders anymore. Then out comes The RCC. They talk about how they belong as the new members of the Trinity because they got Juggalo his job as new commissioner. The Trinity disagreed and attacked Craig, while COD held Epiphany back. COD leaves with the Trinity

The Scoot beat Ares

Ares first competitor from the EWW made his debute in the FVWA. With a great look and a great move set to match, Ares took The Scoot to the limit and a missed senton followed by a Spear from the Scoot help The Tag Team Champion win.

FVWA Hardcore Title

Assassin beat Hitman

The hardcore champion continued his reign by beating the man that he had some trouble with at Wrestle Riot. Hitman came out and showed everything he has but in the end the Hardcore Champion pulls out a huge win.

Damnum beat The Stefan

Damnum came out and was all business, no speech just anger. Stefan looked prepared but then LCN music played and distracted The Stefan. Damnum took a shot from behind and fallowed with a brutal attack. After a huge Spin Buster, The Stefan never did recover.

Gauntlet Match

Brent Anderson

beat

The Brawler

A-Man

Polish Luchador

Samurai

Brent Anderson came out and said that Heretics win was a fluke. To prove it, Juggalo set up a Gauntlet match between Brent and 4 of FVWAs best. First out is a new guy making his debute in FVWA. The former World Champion had little trouble with the new comer. Then out came A-man, little troubleagain. Polish Luchador lasted about 2 min. with Brent and had offence, his offence was throwing water in Brents face. Finally Samurai came out and gave Brent a challenge. Polish Luchador stayed by ringside to support his partner. Samurai hits his finisher then asked the crowd if he should do it again, he goes to shoot Brent into the ropes and P.L trips Samurai on accident. Brent wins the match.

Chris Mecca beat Tim Mecca

This brutal rematch from WrestleRiot had everything that was expected. The two dis-placed brothers really gave each other another beating. This time the table was turned and Chris Mecca hits the F-5 and pulls out the victory.

3-Way for FVWA World Title

Heretic beat Dredd and Touchdown

After Heretic came to the ring Commissioner Juggalo came out and said that he didnt make the match so Christopher Gambino would not get a shot. Juggalo said he brought in 2 people from EWW to take Heretic out in a Triple-Threat Match. The duo from the greater Milwaukee area had there way early, but the greed of being the FVWA champion got to them as they started to fight each other. This was the door Heretic needed as he pulls out a HUGE Dino Bomb to Dredd and retains his belt.

Non-Title

"Psycho" Craig Conveant beat Shane Hunt

COD Special Guest Ref.

Prior to the match COD was named Special guest Referee. Shane Hunt had firm control in the match thanks to COD. Every time Craig would get a pin COD would slow count. With Shane in firm control of the match; Craig out on nowhere rolls Shane up and pulls out the win. Craig rolls out of the ring and Shane argues with the Trinity on what just happened. Behind Shane COD tries to get Shanes attention and Shane blew him off. Then COD unmakes and he is JOE E TERRIFYING!! Shane turns around and attacks. On the out side Craig cleans house with a white pipe of all things. The Trinity bails and leaves Shane to the wolves.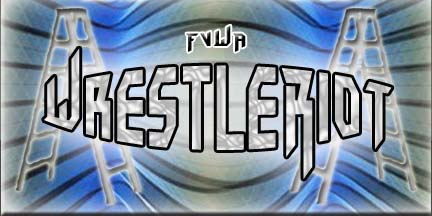 WRESTLERIOT

The Valley Will Never Be The Same Again

RESULTS

Opening of show.

Trinity comes out and talks about how successful they will be today. Then Joe Es music plays and out comes his friend Pitch. Pitch asks Starr why she did what she did. Then challenges her to a match. Commissioner Oshay makes the match. Then out comes Psycho Craig Covenant comes out and says that thanks to a deal with the Trinity he has the signatures to fire Ric O Shay as commissioner. Craig then announces Ric O Shays replacement PYSCHOPATHIC JUGGALO! Juggs comes in from behind the ring and attacks Ric.

Starr Kayde beat Pitch

Pitch starts with a small amont of offence of Starr. The with the trinity distracting the ref. Brent Anderson comes in the ring and hits a Blue Thunder bomb and Starr gets the win.

Flag on a Poll Match

Polish Luchador and Samurai

beat

Sean Gotti and Christopher Gambino

LCN had early control early laying a beating to the Polish Luchador. At every chance P.L would run up the corner and try to grab the flag. After about 5 attempts P.L grab the flag, only to have it taking from him by COD. P.L hit COD and grabbed the flag.

Hardcore Title

Assassin wins the Hardcore Battle Royal

With Nick Colucci in jail the Hardcore title was put up for grabs in a pin-fall Battle Royal. Hardcore Wonder, Wolf, Assassin, Kale, Hitman and A-man all battled. Highlight of the match was Wolf throwing H.W through a plastic picnic table. In the end Assassin in his first match captures the FVWA Hardcore Title.

Tag Team Titles

Street Fight!

The Scoot and The Stefan

beat

"Psycho" Craig Covenant and Black Death

Craig comes out and introduces his partner. Coming back to wrestling from 3 years in retirement is PWO legend Black Death. These teams really made a fight out of this. Craig and Death had good control of the match till Black Death walked out on Craig leaving him to get beat by the new tag team champions The Team

FVWA Mid-Valley Title

Ladder Match

Shane Hunt beat Mercenary

Shane Hunt came into this match with a ton of confidence and showed Mercenary why he is a 15 time champion and a veteran of 13 years. This match showed great use of the ladder and Shane Hunt pulled down his first FVWA title.

Hair v.s FVWA Career

"Sexiest Man Alive" Rich Sontag

beat

Damnum

This match had a lot on the line. In one corner you have the former FVWA champion Damnum and his long brown hair. In the other corner you have the PF legend and his FVWA career. This was a technical battle for the ages. This back and forth battle had everything a fan of wrestling could ask for including Rich Sontags bare ass. In the end Rich hits the Red lights District and wins. Then Rich chased Damnum around with a scissors and almost got Damnums hair.

Brothers v.s Brother

Anything goes!

Tim Mecca beat Chris Mecca

You would never know these two were brothers by looking at this match. They hit each other with every move and object they could get there hands on. At one point Chris Mecca hit his brother with light bulb tubes and an F-5 onto an open steel chair. This wasnt enough as Tim pulls out the win in the end.

FVWA World Title. No DQ

Heretic beat Brent Anderson

Match of the show. Heretic and Brent used every move they know. This back and forth match made it to the out side where Heretic was Death Valley Driven into a Barb Wire Table. Brent also hit a perfect 450 splash. All this punishment couldnt put Heretic away as Heretic hits a Dino bomb off the apron through a table to end Brent Andersons reign as World Champion.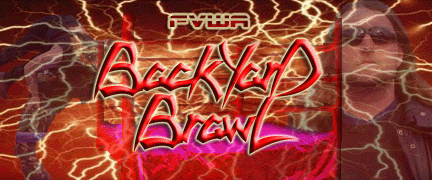 Backyard Brawl IX

RESULTS

Opening of Show

Ric O Shay welcomes everyone to the show. Then there is noise coming from the back. Shane Hunt and Brent Anderson drag a bloody Joe E out in front of the crowd. They continue to beat him with a baseball bat. Shane and Brent come out and talk about how its a shame that Brent wont have an opponent for Wrestle Riot now. Then Heretic comes out and says that this is why he hated being in the Trinity and that Joe E was a friend of his. Heretic demands a shot at Brent and the FVWA title. Ric O Shay gives it to him. Ric also announces that Shane will have a special opponent tonight.

Hardcore Rules

Polish Luchador beat Hardcore Wonder

Hardcore Wonder comes out and tells Ric O Shay that he is being misused. He asks where Little Nick is or where Destruction is? He says that he is a former Hardcore Champion and deserves more respect. He then says he is sick and tired of Polish Luchador holding him back. BangH.W hits P.L in the head with a kendo stick and asks to face himBoom again..then again. Finally Ric O Shay gives in and the match is on. The bout went back and forth with some sick shots. In the end P.L pulls out the win.

Shane Hunt beat Rich Sontag

Special Referee: Freak

Before the contest Ric O Shay brings out the Special guest Ref for the match Freak. This did not make Shane very happy. This match was everything it was suppose to be. Back and forth action with the goof ball comedy of Rich Sontag. Freak stayed impartial throughout the contest and counted the three when Shane got a roll up pin on Rich. After the bout Shane attacks Freak and brings a latter into the ring. As Shane attempts a senton Freak moves and climbs the ladder himself and lands a leg drop then hits Shane with the Death Valley Driver.

Interveiw

Ric O Shat says that he was forced to fire COD today for attacking him back stage before the show. Ric says there will be a tournament to decide new tag team champions..Then Craigs music hits. He says that there is an FVWA rule that states that if he can find a new partner before the next title defense that he could keep the belts. He says he also found a rule that states that he can get 50% of the FVWA roster to sign his petition that Ric o Shay would be fired as FVWA commissioner.

Tim Mecca beat Sean Gotti, Trained student of Tim hood

Tim and Gotti come to the ring and call Samurai a pussy for missing the show to be in Japan. So Tim said this would be a good chance to debute a newly trained student of the School of Tim hood. The small blond haired kid comes out and put on a good showing v.s two of the best in the FVWA. Tim Mecca pulls out the win when Polish Luchador came out to take care of some old business with Gotti.

Before the next match Gotti and P.L burst through the curtain and continue to fight. Gotti gets the upper hand and tie a weight around P.L legs. Gotti starts to drag P.L towards his car to throw him into the Fox River. Ric O shay stops him and announces that it will be Polish luchador and Samurai v.s Christopher Gambino and Sean Gotti and Wrestle Riot in a Flag match.

The Stefan beat "Psycho" Craig Convent

A great match. These two took each other to the limits. With the win Stefan earns himself and The Scoot a shot at the Tag Team titles at Wrestle Riot.

Freak beat Damnum

Damnum started his same speech about how Freak has come to him to face the former World champion so he has what it takes to be in the Mid-Valley title match at Wrestle Riot. This slow pace match saw Damnum miss several opportunities to win while he fought with the fans and shook the hand of Psycho Fed Promoter Rob Poole. In the end Freak Freaked Out and hit Damnum with the Death Valley Driver to pick up the win. After the match Damnum was delirious and angered and said that he would put his hair up against Richs FVWA career at Wrestle Riot.

FVWA WORLD TITLE!

Heretic beat Brent Anderson by D.Q.

What a match both competitors beat each other senseless. With one great move after another, nothing they could do would put the other away. Starr Kayde came out and watched the match from ringside. At one point Starr picked up the steel chair she was sitting on and went into the ringShe swung the chair and hit HERETIC?? She was announced as the new manager of The Trinity. Now we have learned that Starr Kayde was the mastermind of the Joe E attack, but why?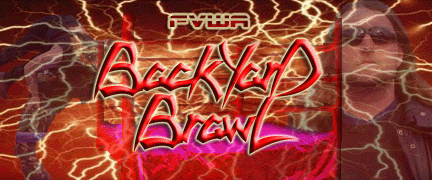 Backyard Brawl VIII
Night of Surprises
Interview
Ric OShay calls out Tim Mecca to explain why he hit him with a steel chair and walked out. Tim claimed it was because Ric close lined him on accident. Then Chris Mecca's music hits. Chris Mecca comes out and asks the same question. This time Tim claimed that Chris has been holding him back and he is sick of being the little brother. Then music hits, from behind the ring came out a huge guy. This guy and Tim then beat Chris Mecca up.
Chris Mecca defeated Damnum
With Chris still hurt in the ring, Damnum's music hits. Damnum comes out and talks about how he came do for Chris what he did for Joe E. He can light a fire under his ass. His arrogant comments further infuriated Chris who started to punch Damnum. The match was solid as both guys gave it their al. including Chris hitting a high cross body off the top turn buckle to the outside. In the end a missed senton by Damnum and an F-5 by Chris put Damnum away.
Tim Mecca defeated The Scoot
This match was awesome, some great spots and moves. The crowd popped several times. This was one of the top matches of the night. Tim Mecca pulls off the victory in this one. After the bell as Tim and his big friend were leaving Chris Mecca ran out and began his attack, but to no avail. After being beat all over the outside Chris was finished off and injured on a Mecca Driver on the outside.
Damnum Picks Opponent
Joe E defeated Rich Sontag
Joe E comes out and awaits his opponent. Damnum then comes out with a steel chair and tells Joe E. that his win last show was lucky and that his shoulder was still injured that he could never beat him in a fair fight. He said that he will give Joe E. another chance to show what hes got. Damnum says he look all around the world of BYW to find the best opponent. Out comes Rich Sontag. Rich says that he finds it funny Damnum is talking about lighting a fire under other people but cant seem to get a win for himself. Damnum leaves the ring and sits at ringside. The match was everything it was meant to be with great action and back and forth offence changes. At one point Joe E. hits the ref of accident. Damnum jumps up and hits Rich Sontag with a chair. Joe E. turns around to see his opponent down and takes the pin. The he sees Damnum with a chair. Joe E. says he didnt want it that way and Damnum hits Joe E. with a chair. As Damnum leaves Rich Sontag comes too and challenges Damnum to a match at Wrestle Riot.
Hardcore 6-Man Tag
Sean Gotti, Christopher Gambino & Nick Colucci
Defeated
Polish Luchador, Hardcore Wonder &
Destruction
Pain, Pain and more Pain. These 6 took each other to the limit and beat the hell out of one another. Each team took each other to the limit and put it all on the line for nothing more then bragging rights. La Cosa Nostra picked up the win after a misplaced shot by Hardcore Wonder to Destruction.
The Stefan defeated COD
The Stefan showed he is ready to make a step up to the top of the FVWA. He showed great skill and pulled off the biggest win of his career over the BYW legend COD.
Lumber Jack Match
Freak defeated Shane Hunt
This night was meant to be fair. Thats why this match was made a lumber jack match to keep it fair. On this night Freak came back with a vengeance. This match was a back and forth battle. After many trips to the outside and 2 Freak Outs Freak was able to pull out the biggest win of his career beating the legendary Shane Hunt. After the match the lumber jacks finally snapped and their was an all out brawl between the lumber jacks.
Heretic defeated "Psycho" Craig Covenant
Mercenary was unable to defend his FVWA mid-Valley Title do to injury. In his place Ric O Shay brought back to everyones surprise Heretic. Heretic showed little ring rust as he went on to win over Psycho Craig.
NoN Title/ Shane hunt banned from Ring Side!
Samurai defeated Brent Anderson
With Shane Hunt Banned from ringside Samurai had a fair shot against the FVWA World Champion Brent Anderson in a non-title match. This was a great wrestling match that could have gone anyway. Samurai was lucky not to get eliminated when he brought in his sword into the match. Towards the end Joe E and friends came down to ringside. With Brent and the ref distracted Starr Kayed hit a HUGE nut shot to Brent and Samurai scored the win. After the match Joe E challenged and received a title shot v.s Brent for Wrestle Riot.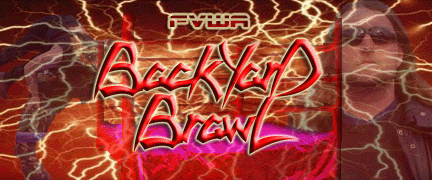 Backyard Brawl VII

4 Championships on the line!

Results!

Trinity speaks

Before the show Ric O Shay announces that Brent Anderson will defend the Title v.s a mystery opponent. The Brent and Shane come out and talk about the departure of Triple X and Brent pretends to be Mercenary as Shane Hunts belittles him.

The Stefan beat The Scoot

This was a solid opener. Scoot returns and again makes an impact showing some good skill and unique combos. The Stefan remained strong and pulled out a huge win. After the match Psycho Craig attacked the Stefan. Oddly The Scoot returns to the ring and come to the aid of The Stefan. Both leave together.

Polish Luchador & Hardcore Wonder

Beat

Sean Gotti & "The Don" Christopher Gambino

Polish Luchador came out dressed like and acting like the Hardcore Wonder. It seamed to be an attempt the mainly dislike P.L to gain some fan support. The match was almost dominated by LCN singling out P.L and beating the crap out of him. The unique tag team of P.L and H.W stayed strong and pulled out a win. A side note this match featured the first ever Double-Fish.

Tag Team Titles

Raging Cancer Chipmunks beat Tim Mecca and Ric O' Shay

With RCC already in the ring Tim Mecca come out by himself. He informs everyone that Chriss leg is too hurt to compete and that he will defend the titles himself. Ric Oshay cuts in and says that he will be in Tims corner. Everything was going good for this team till Rick accidentally hit Tim. From there Tim got a steel chair and hit Rick OShay with it and walks out. This gave the match and the Tag Team Titles to RCC.

Hardcore Title

Nick Colucci beat Destruction

This was more a gang beat-down then a match. All three members of LCN pummeled Destruction with anything and everything they could find. Destruction should not even be alive after that beating. Nick Colucci retains the Hardcore title.

Joe E Terrifying beat Damnum

Before the match Damnum said that he was out there to light a fire under Joe Es Ass. That Joe E. will never be a world title contender and that he will always be a jobber. Damnum followed it with a slap to the face. Joe E. exploded and this match was a brutal fight to the finish. Joe E. pulled out the biggest win of his career and the #1 contenders spot for the worlds title. After the match Brent Anderson came into the ring and hit a blue thunder bomb on Joe E. Starr Kayed.

Mid-Valley Title

Mercenary beat Shane Hunt

Shane took early control and showed his opponent little respect as he would stop and talk to Brent and the crowd. Mercenary showed a lot of hart but Shane had control of this match. Then with Brent distracting both Mercenary and the ref out of no where out came Freak. Freak hits Shane with a kendo stick. Mercenary hits the pedigree and Shane kicks out. Once again with the pedigree and Shane in counted down. After the post match beat down of Mercenary Shane Hunt challenges both Mercenary and Freak for Wrestle Riot.

World Title

Brent Anderson beat Psychopathic Juggalo

Brent Anderson comes out the ring with Shane hunt. The Rick O Shay announces his surprise opponent Psychopathic Juggalo! Brent was not prepared for this and it took everything Brent had to pull out the win on Juggalo.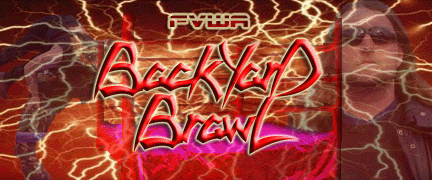 Trinity Spoof
Damnum, Joe E Terrifying and Mercenary Came down to the ring Dressed up as members of the Holy Trinity. After a few minutes of making fun of the trinity the real trinity members of Shane Hunt and Brent Anderson came to the ring. As Shane and Brent started to enter the ring Rick O Shat broke them up because he wasnt going to have his show ruined and everyone could settle it in the ring.
Destruction beat Wolf
Wolf in his first appearance in the FVWA came out and challenged anyone in the FVWA. To his and everyones surprise Destruction came out. After several months off Destruction showed little ring rust as he went on to win.
Sean Gotti beat Polish Luchador
La Cosa Nostra and Sean Gotti (Formally know as Sean Biggs) came down to ringside and called out Polish Luchador. LCN claimed that they have pictures of P.L coming out of the FBI headquarters in Chicago. P.L says it wasnt him and that he has a twin. LCN says that P.L must earn back their respect by beating Sean Gotti right now. P.L had very little offense in his one as Gotti dismantled him. With outside interference Gotti put the P.L away with little effort. After the match LCN beat down P.L even more and said that this wasnt over.
Samurai beat Chris Gambino
In his first singles match in FVWA Christopher Gambino ran in to a red hot Samurai. The power house showed he can hang with the quicker Samurai, but in the end Samurai was too much for Gambino.
FVWA Hardcore Championship
Nick Colucci beat Hardcore Wonder
This match was everything that a hardcore title match should be. This match should have been booked a 3 on 1 because LCN were all over this match. Finally Rick O Shay kicked LCN out of the match but the damage was done. Nick Colucci picks up the win and the Hardcore title.
COD beat Tim Mecca
With COD in the ring, the Meccas music hit. At the entrance Tim Mecca ran towards the ring and the awaiting COD. Chris Mecca stayed back for a minute but to a cost Psycho Craig burst through the curtain and hit Chris Mecca in the knee with a pipe. COD thought he got out of the match, but Rick o Shay made it a 1 on 1 with Tim Mecca. The match was a true classic. Both competitors put everything into it. In the end Psycho Craig came back out and blasted Tim with his trademark kendo stick right into CODs Diffuser.
Psycho Craig beat The Stefan
Raging Cancer Chipmunks came out and demanded a shot at the Meccas. Craig didnt want to face the Stefan. Rick O Shay said that Craig would face the Stefan and on top of that COD could earn a shot at the Meccas. COD must beat BOTH the Meccas in a 2 on 1 match. The Stefan really showed some great talent in one of his best matches. This one could have gone anyway. With the help of some mist to the eyes Craig pulls out the big win. After the match Craig beat the hell out of a female fans of Stefan at ringside.
Damnum beat "Fake" Triple X
Damnum comes out to right and calls out his opponent Triple X. What he got was Mercenary still dressed like Triple X from the Spoof interview. Mercenary came into the ring got a tap from Damnum and Mercenary laid down. Damnum took an easy 1, 2, 3. After the match he sent a message to his no show opponent. It would have been this easy if Triple X was here.
Shane Hunt beat Joe E Terrifying
Huge, The one word that describes Shane vs. Joe E. Joe E has always been viewed as a joke? Well this is your wake up call. Joe E. took Shane Hunt too his limit. Brent tried to interfere but Damnums presence at ring side prevented this. Including Damnum giving Brent a Vertical Suplex on the ground. Despite everything Joe E thought at him Shane Hunt pulled out the win.
Stipulations Match
Brent Anderson beat Mercenary
Stipulation: If Brent Wins ANY member of the trinity gets a shot at the mid-valley title at the next show. IF Mercenary wins he gets a shot at Brent for the World Title at the next show.
This was the match of the night. Mercenary and Brent almost killed each other. Mercenary showed nothing but guts and determination as Brent hit him with everything he knew. After a huge Superplex Brent rolled to the outside and was hit by a high cross body to the outside. From there in the sprit of the 4
th
Mercenary lit a pack of fire crackers off on Brents stomach. When it was all said and done Brent pulls out a HUGE win in a match that earned the competitors a standing ovation.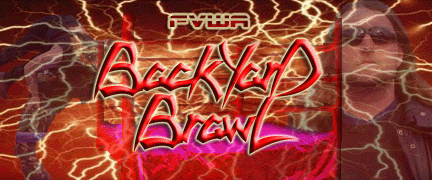 BackYard Brawl V Results.

In an Interview Triple X becomes the new member of the Holy Trinity

Handicap match

Ric O'Shay beat The Raging Cancer Chipmunks

Ric O Shay really showed us why it takes a tough SOB to be the boss in the FVWA. Being double teamed throughout the match he still found the strength to pull of a huge double Samoan drop.

FVWA Tag Team Championship

The Mecca's beat La Cosa Nostra

La Cosa Nostra thought they had the advantage going into this contest. They had set up the challenge for the tag titles to be a Sicilian death match. This contest was brutal with the upper hand changing throughout the contest. The Mecca's once again proved why they are the team to beat in the FVWA with the win over LCN. One side not The Polish Luchador did not come to ring side with LCN.

Hal Moore beat The Stefan

The man formally known as Ranger came back to the FVWA under his "Real" Name. That didn't make much difference for him though. Hal Moore had his way with the Stephen. A botched run in by Polish Luchador sealed the victory for Hal Moore. Hal chased P.L. out of the building in the end.

FVWA Hardcore Championship

Hardcore Wonder beat A-Man

A-Man once again tried to claim FVWA gold. As he faced the undefeated Hardcore Wonder. Hardcore Wonder finished off A-Man with the huge Frog Splash.

"The Best" Shane Hunt & Brent Anderson

beat

Joe E Terrifying and FrAeK

Shane Hunt tried to challenge Damnum to a rematch knowing the Damnum was not in the building. Then Joe E. terryfing's music hit. Joe E. said that he needed a match for this week and that he would take on both Shane Hunt and the world Champion Brent Anderson. Joe E slid into the ring and started to get beat by all 3 members of the holy trinity. Then Freaks music hits. Freak returns to the FVWA after being out of action for months. He runs to the ring with a steel chair and cleans house. The ref got control and we had ourselves a match. Freak and Joe E. were strong, but in the end a Shane Hunt and a Brent Anderson Blue Thunders got the win for Shane and Brent.

Samurai beat "Showstopper" Sean Biggs

Sean Biggs has been on a losing streak since his debute in FVWA. Samurai made sure that trend continued and scored the victory. La Cosa Nostra was at ring side thoughtout the match and tried to interfere as often as they could on behalf of Sean Biggs. In the post match it was revealed that Sean Biggs was not Sean Biggs after all. He was a childhood friend of LCN. The three left together.

FVWA Mid-Valley Title

Ladder Match

Mercenary beat Triple X

This was a great ladder match. Mercenary who was injured himself in practice really showed a lot of guts in this one. The two men thought out the match send more time beating each other then they did going for the belt. In the end Mercenary climbed the ladder and became the new FVWA Mid-Valley Champion. Brent Anderson jumped Mercenary at the end of the match and Joe E. ran out for the save.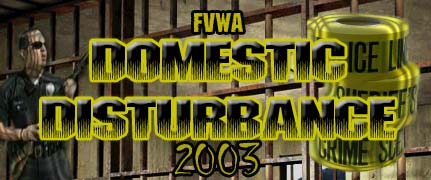 Domestic Disturbance 2003

RESULTS

Winner to face Brent Anderson for the FVWA World Title.

Joe E Terrifying wins the Battle Royal

The show kicked of with a bang with a great over the top rope battle royal. Joe E. Survived 9 other FVWA stars to shock the FVWA with the biggest win of his career. Joe E earned a shot at Brent Anderson and the FVWA World title later in the show.

FVWA Mid-Valley Championship

Heretic beat Mercenary

With Psychopathic Juggalo not able to compete, Mercenary had a one on one shot against Heretic. Mercenary had a great showing against the Mid-Valley champion, but in the end Heretic and the Holy Trinity were too much for Mercenary. Heretic retains the FVWA Mid-Valley Title.

First Ever FVWA Tag Team Champions

The Meccas beat RCC & La Cosa Nostra

The hatred flowed in this match. These three teams had nothing but bitterness throughout this match. La Cosa Nostra were eliminated early. This left the RCC and the Meccas to battle it out. This match went back and forth. Each team put it all on the line, including Tim Mecca going upside down for the first time since birth. COD was distracted by held outside the ring by Ric OShay. Psycho Craig tried his best but the Meccas were too strong. The Meccas are crowned the first FVWA Tag Team Champions.

FVWA Hardcore Championship

Hardcore Wonder beat A-Man & Hal Moore & Little Nick Colucci

With Joe E getting a shot at Brent Anderson later in the show, he pulled out of this match and was replaced by newcomer Hal Moore. All four men put it all on the line. At one point Hardcore Wonder was busted wide open. With a 4 inch cut on his forehead Hardcore Wonder hit his frog splash and was crowned the new FVWA Hardcore Champion

FVWA World Title

Brent Anderson beat Joe E. Terrifying

Joe E gave it his all in everything a World title match should be. This match went back and forth. Joe E. came close to a victory on several occasions. The nearly non-stop outside interference for the Holy Trinity prevented an upset. Brent Anderson retains the world title.

"Crippler Match"

Damnum beat The Best Shane Hunt

This match had everything it promised. Damnum came to ring side with Tim Mecca. Tim was carrying a steel chair. Shane Hunt came to the ring with Brent Anderson. Brent had a kendo stick. Shane took the early advantage and was up on Damnum 2-0. Then Damnum came back and scored 2 over the top tosses. Finally it came down to 3-3. Plus the 1 time that Damnum went over due to outside interference and it didnt count. After many near falls Damnum hooks the Damnation and beats Shane Hunt.
What is a "Crippler" Match?

Each Wrestler gets one escort each that carries one weapon of the wresters choice. Every time you get thrown out of the ring you get hit with your opponent's weapon three times. The winner can only be decided either by pinfall, submission or TKO after thier opponent has been thrown out of the ring at least 3 times.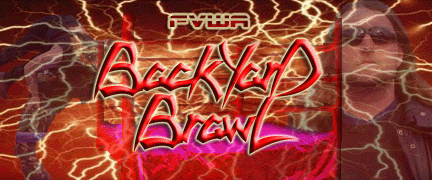 Back Yard Brawl

May 24th, 2003

Open HardCore Challenge

HardCore Wonder beat Joe E.

First Round of the FVWA Tag Team Title Tournament

The Mecca Brothers beat Polish Luchador & "The Showstopper" Sean Biggs

The Raging Cancer ChipMunks beat Children of the Lotus

La Cosa Nostra beat Samurai & A-Man

Number 1 Contender for the Mid-Valley Championship

Mercenary beat "The Best" Shane Hunt

Non-Title

PsychoPathic Juggalo beat Heretic (C)

FVWA World Championship

Brent Anderson (C) beat Mason
May 10, 2003
CoD and Psycho Craig fight like children
Cod confronts Psycho Craig and tries to convince him to forget their match, and just focus on the tag team tournament, but craig hears none of it, and begins a scuffle. Commissioner Rick O Shay breaks it up, and makes the match open the show, cause he's sick of their complaining.
Psycho Craig defeats CoD
Battling numerous injuries, CoD was stunned by the early offense of Psycho Craig. A back and forth battle was tarnished by Psycho Craig's devastating finisher..... i giant finger poke! Psycho Craig pins CoD after the finger poke and gets the 1-2-3. Rick O Shay tries to find out whats up, just to be met with a cane shot to the back from Referee Danielle!! Not effecting O Shay in the slightest, he turns around just to be met with a giant cane shot from CoD! O Shay hits the ground as CoD, Psycho Craig and Danielle rejoice in their swerve. Rick O Shay claims that The Cancer ChipMUnks will NEVER win the tag titles.... as long as he's around.
Sean Biggs Causes Trouble
Backstage, Triple X is warming up as Sean Biggs joins the scene. He informs triple x that Mercenary has been spreading rumors about him behind his, and that TripLe X would be much better off teaming with The ShowStopper. As Biggs walks away, Mercenary enters the room...... but is only met with a cold shoulder as Triple X walks off.
HardCore Wonder defeats Polish Luchador
HardCore Wonder jacked his season openning undefeated streak to 4-0 as he destroyed Polish Luchador in this Hardcore contest. HW smashes Luchador with the huge 5 star for the victory. After the match Little Nick Colucci attacks HW from behind, slamming him to the mat and executing his own splash, and leaving.
Samurai and A-Man defeat La Cosa Nostra
With Joe E. TerriFying and Steffen Injured..... Joe E needed to find someone to take his place in his tag match..... his choice.... none other than his old buddy A-Man. A-Man wound up taking a majority of La Cosa Nostra's offense, as they cut off the ring beautifully, delivering powerbombs, suplexes and a giant double chokeslam to the artist formerly known as Adidas Man. In the end Little Nick tried to drag Joe E into the ring, only to be stunned across it and directly into a roll up by A-Man, for the pin.
HardCore Wonder confronts Little Nick
Little Nick Collucci is backstage lighting up his usual smoke after his match, when hardCore Wonder ignites a fight. HW winds up bashing little Nick with a chair, slapping him in the face, and informing him that he'll see him at Domestic Disturbance.
Sean Biggs defeats Chris Mecca
Chris Mecca continues his hard luck since losing the Hardcore championship, as he falls victim to Sean Biggs huge Showstopper powerslam. But Chris Mecca will get chance for revenge, as He and his brother The mecca of timhood, face Sean Biggs and TripLe X in the first round of the Tag Title Tourney.
Children of The Lotus defeat Mercenary & Triple X
Desention ran deep between Triple X and mercenary through out the match up. After Refusing a tag from Mercenary, then Mercenary forcing the tag upon him, Triple X turned his back on mercenary by hitting him with his own finishing manuever, then abandonning him to the children, and leaving with Sean Biggs, who was conveniently at ringside. Children of the Lotus by Pinfall.
Shane Hunt defeats The Scoot
Shane Hunt makes his way to the ring escorted by Brent Anderson . He then states that he showed up at the show, and noone wanted to wrestle him. Hunt then makes an open challenge to anyone in the back, which is quickly taken by The Scoot! Hunt offers Scoot a spot in the Trinity, but only if he dropped to his knees and begged for it. Scoot hit his knees and proceeded to punch Shane Hunt square in the groin. Scoot continued to put on undoubtedly the best match of his career, as he took it to shane hunt for most of the match, before falling short to the constant interference of Brent Anderson and an absolutely devastating Blue Thunder bomb, in which Scoot somehow ended up on his stomach.
Heretic defeats Timothy Mecca for MidValley championship
After Winning the number 1 contendership more than a month earlier, Heretic finally challenged Timothy Mecca for the Mid-Valley championship. After a hard fought battle which featured the high flying , power offense of Timothy Mecca vs the underhanded bret hart-esque style of Heretic, Heretic emerged the New Mid-Valley champion with the blatant help of The Holy Trinity (Brent Anderson and Shane Hunt) and a piledriver onto a steel chair. one question remains..... has Shane Hunt brought Heretic into the Trinity?
Brent Anderson Wins the FVWA championship over Damnum
Brent Anderson then proceeded to accomplish the task of pinning the world champion on 2 consecutive shows. Damnum fought his hardest to counter the constant outside interference of Shane Hunt and the barrage of offense from Brent Anderson, but in the end it was too much, as The Best delivered a devasting standing Blue Thunder onto a ladder, rolling Damnum into the ring, where he was met with another Blue Thunder from Brent Anderson, and a new champion was crowned.